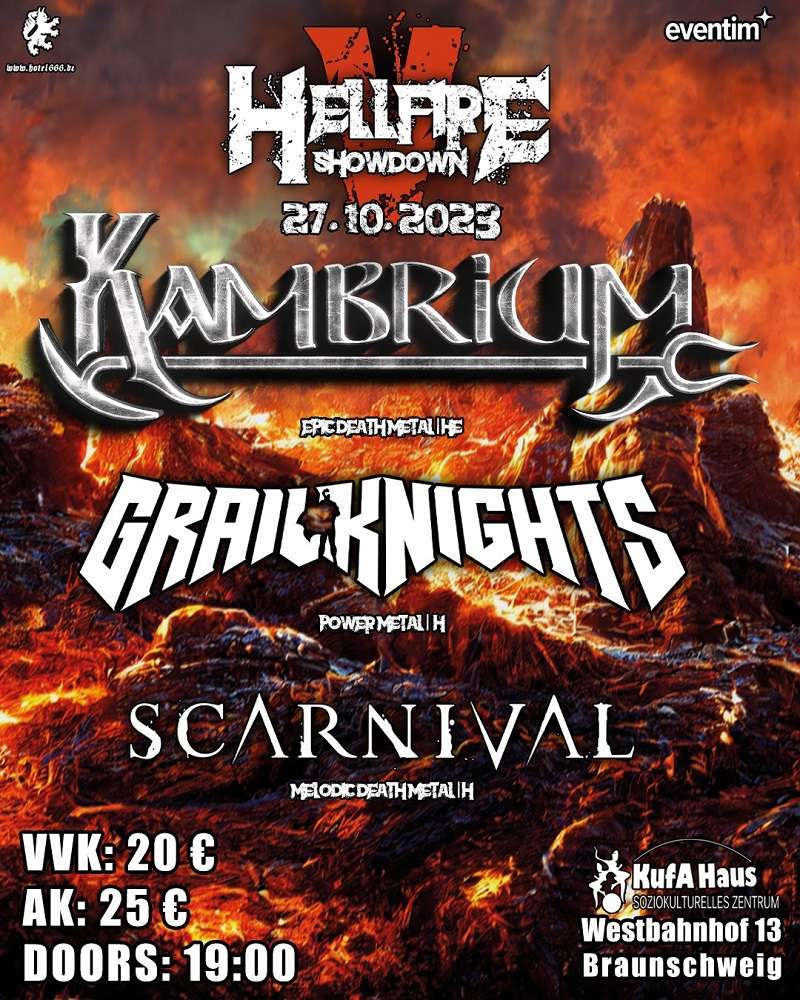 KufA-Haus Braunschweig
Dear Metalheads, on Friday, October 27, 2023, KAMBRIUM will make the KufA-Haus in Braunschweig come alive. This concert promises to be an epic eveningthat you cannot afford to miss!
We are excited to announce that we won't be alone on stage. We have two incredible bands joining us, making the night even more unforgettable.
GRAILKNIGHTS
The Grailknights are known for their unique blend of power metal and humorous stage presence. With their fast-paced rhythms and catchy melodies, they will captivate you and ensure a great atmosphere.
SCARNIVAL
Scarnival will open the evening and hit you with hard swedish death riffs.
Tickets
Tickets for this metal spectacle are available at EVENTIM and at the box office.
---
KufA-Haus Braunschweig
Liebe Metalheads, am Freitag, den 27. Oktober 2023, wird KAMBRIUM das KufA-Haus in Braunschweig zum Beben bringen. Dieses Konzert verspricht ein epischer Abend zu werden, den ihr nicht verpassen dürft!
Wir freuen uns, euch mitteilen zu können, dass wir nicht alleine auf der Bühne stehen werden. Wir haben zwei unglaubliche Bands dabei, die die Nacht noch unvergesslicher machen werden.
GRAILKNIGHTS
Die Grailknights sind bekannt für ihre einzigartige Mischung aus Power Metal und humorvoller Bühnenpräsenz. Mit ihren rasanten Rhythmen und eingängigen Melodien werden sie euch in ihren Bann ziehen und für gute Stimmung sorgen.
SCARNIVAL
Scarnival werden den Abend eröffnen und euch harte Schweden-Death-Riffs um die Ohren hauen.
Karten
Karten für diese Metal-Spektakel gibt es bei EVENTIM und an der Abendkasse